Sensuke...which many people know, belongs to the Kohaku (red & white) group, but I think few people recognise its root. So let me explain the birth of Sensuke and its bloodline because this is the base of present Matsue Sensuke Kohaku.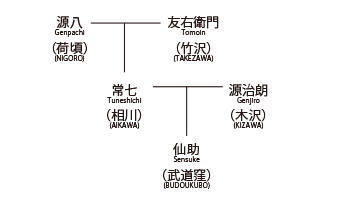 The name Sensuke points to the bloodline of a Kohaku born from its mother Kizawa Genjirou, and its father Aikawa Toshichi Kohaku. The latter was born from Takezawa Tomoin and Nigoro Genpachi, crossbred by Tsuna Sakutarou, a resident of Budoukubo Kawaguchi-Cho Nagaoka City, Niigata Prefecture, whose store name was Sensuke in around 1960, hence the history of 'Sensukes'.
At that time, Tsuna Sakutarou was only a small-scale breeder because he was mainly a farmer. He produced only a small number of carp around twenty 2-year-old and around ten 3-year pluses. They had a sturdy skeletal structure, and both the scarlet colour and Kiwa were amazing.
Tsuna Sakutarou adored late Miya Toraichi (Miyatora Fish Farm) and sold his fish only through Miya. He had some quaint traits. At that time, I used to stay at Miyatora Fish Farm and lay in a stock of carp together with Mr. Miya, so that I was always with him while in Niigata Prefecture. When Mr. Tsuna called us, we rushed to his place and Mr. Miya used to take a few two year-old carp and I bought the rest of the carp.
I brought back Sensuke Kohaku to Matsue, Shimane Prefecture, to start mud pond growing,  raising two to three parent-candidate carp every year for eight years.  My pond, however, was only big enough to grow three mothers' siblings. Incidentally, amongst them were Kohaku that were crossbred with a male Dainichi I had bought through the late Takeda Tsutomu (Takeda Fish Farm of Hiroshima), a few of which became the base for the present-day Matsue Kohaku. One of them, Sakura, 70 cm at that time, was bought by Sakai Fish Farm &Co. Ltd.  At the same time, I had a favour of Mr. Hiroi Seiji (Niigata Kokugyo-kan) to rent an mud pond in Niigata Prefecture and I used this contract-breed twenty Tosai through to Nisai. In one fall, both Mr. Hiroi and Mr. Miya were surprised to see two outstanding mud-pond-raised carp. Each bought one carp and raised it until both won the 'Minister of Agriculture, Forestry, and Fishery prize' at the thirty-third and thirty sixth Niigata Festival of Agriculture. This success gave me an absolute confidence in producing Sensuke and in the unlimited power of this bloodline!
Meanwhile, at the same time with my producing in Shimane, late Mr. Morita Kazumasa of Yamaguchi prefecture brought home one five-year-old female Sensuke from Miyatora. Morita's Sensuke had a high stature, sturdy bone frame, and extensive streamline of the body, so I felt this could be a jumbo carp. I made a contract to obtain the entirety of his carp, which enabled both Matsue Sensuke and Morita Sensuke to spread over from western Japan. That was in around 1967.

Among these Morita Sensuke were born a number of beautiful carp, one of which made a great contribution to the progress of the present-day Kohaku. That was Donguri (85cm then) which went to Sakai Fish Farm Co. Ltd. as a parent carp.
In 1973, I heard Mr. Tsuna Sakutarou would quit producing carp because of age. He asked me to bring home the original female parent of Sensuke. The original male parent had already died. That terminated the production of Sensuke in Niigata Prefecture. In those days, I remember Mr. Tsuna Sakutarou ask me one question as follows.
"People in the western Japan are talking of 'Sensuke, Sensuke' quite often. Is that referring to me?"
I was so overwhelmed by many thoughts that I could only squeeze his hands and added, "That's right, Old man! Thank you for everything!"

That was all I could say. All is now such good memories of those days.
Lastly, Sensuke at Matsue Nishikigoi Center LLC., in short, consist of
1. Direct Matsue-grown Sensuke crossbred from female Niigata Sensuke and male Morita
Sensuke
2. Morita trait Matsue-grown Sensuke created from the combination of Morita Sensuke and
maleDainichi of Takeda Fish Pond of Hiroshima Prefecture, 
3. Morita trait modern Matsue-grown Sensuke cross-bred with famous producers' male carp.  
These three trait lines have been the main frame of our daily care and production of Sensuke with maintenance of the bloodlines always in mind.
2016/9/10